Writers should always be looking for ways to expand their audience.
This post may contain affiliate links.
It doesn't matter the genre, niche or business, if you write words about it, you want people to read them.
Writers who are able to commit to producing content on a regular schedule can build an audience quickly through content share sites. For a person who has the will, want, and desire to rise to the ranks of a professional writer, content sharing sites can play a big part in their success, or failure.
The first thing a writer must commit to, if they want to build a loyal, responsive, following, is to produce fresh content as often as possible. This content doesn't have to be earth shattering every time, but it does need to speak to your audience on some level. A few more things to keep in mind:
Articles do not need to be lengthy. The average attention span for reading online content is down to just a few seconds. Say what you need/want to say, and move on.
Make your content easy to read with lists and bullet points.
Know how to use your content as an extra revenue stream.
Yes, Even You Can Earn From Your Writing
But let me repeat myself: You must commit to producing content on a regular schedule – for a long time. If you can write one, minimum 500-word article per day, you'd be way ahead of a large pack of people thinking they want to earn a little money from their writing. Crank out two or three pieces a day, 5 or 6 days a week and you're getting to an even higher level.
Where Can This Happen?
Not on your own website. Not unless you've got a ton of traffic happening and all the buttons in place, ready to be clicked. Sounds like a lot of time and money spent putting together a website. If you have the time and money, I say go for it. If you'd rather stick to 'just writing,' here's a site to consider.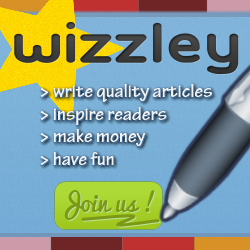 I've been a member of Wizzley for just over a year. I've not followed the instructions as I've laid them out for you, and yet I've still seen a little money from the articles I've published. In my year as a member, I've only published 24 pages. Two a month. Not bad, but I know I can do better.
After seeing how much traffic those articles received and then produced, I realized what I've been missing out on, the opportunity to add to the revenue stream generated by my writing.
The best part about Wizzley is the writing dashboard. From the first block, the article is set up for SEO and keywords. Being able to move the modules around give the writer some flexibility to be creative, but the focus remains on the content.
Broken into these blocks makes it easier for the writer to tell the story. They're not faced with one blank screen. Instead, they're able to write about important subjects within the story, making the content not only easier to write but easier to read and remember.
I invite you to join me on Wizzley! I've found the community to be an active one. If you take some time to connect with other writers, you'll be on your way to creating a strong network, an essential step in building an audience and extra income stream. You'll become part of my group automatically!